Nothing helped until I found Horine Chiropractic"This place is Amazing!! I had a horrible accident, spent months in rehab, and then physical therapy, nothing helped, then I found this place, and I am now stable in my walking, and my pain is way more tolerable, and I have only been going a short time, I am sure I will be feeling awesome …"
Exceptional staff and personal treatment"The staff is exceptional!!! Always greet you so warmly and personally! Dr. Horine has saved my back! You feel cared for and genuinely taken care of from the beginning of the visit until the end!"
Instant relief of shoulder pain "I went to see Dr. Horine and he suggested some therapies that they offer. Sparring the sordid details of it all, 2 days later I went to work at the hospital for 3 straight 12 hour shifts without any discomfort at all. I highly recommend this chiropractic group. They did wonders for me …"
Recommended for fibromyalgia treatments"I have been a patient of the Horine's since 2009 and they are truly the most informative, educated and kindest physicians I have ever met! I see them for Fibromyalgia treatments and Reguar Chiropractic. I highly recommend them for anyone! …"
Got Relief Fast!"All three doctors at Horine Chiropractic re absolutely wonderful! They are all very personable and knowledgable about any issue from head to toe. I stop by every chance I can because I automatically feel results. I am a three sport athlete …"
Started to dance again During a dance lift, I was dropped and that is when my back began hurting. It got so bad that I could no longer dance and I had to watch everyone else dance. After treatment at Horine Chiropractic, I'm now able to step into a dance studio with complete confidence, and not worry about my back. Thank you!"
Got Me Working Again"I'm a roofing contractor and I fell off of a roof and hurt my shoulder. The doctor fixed me right up and I got back on roofs. Thank you Dr. Horine! …"
Choosing A Chiropractor Is A Big Decision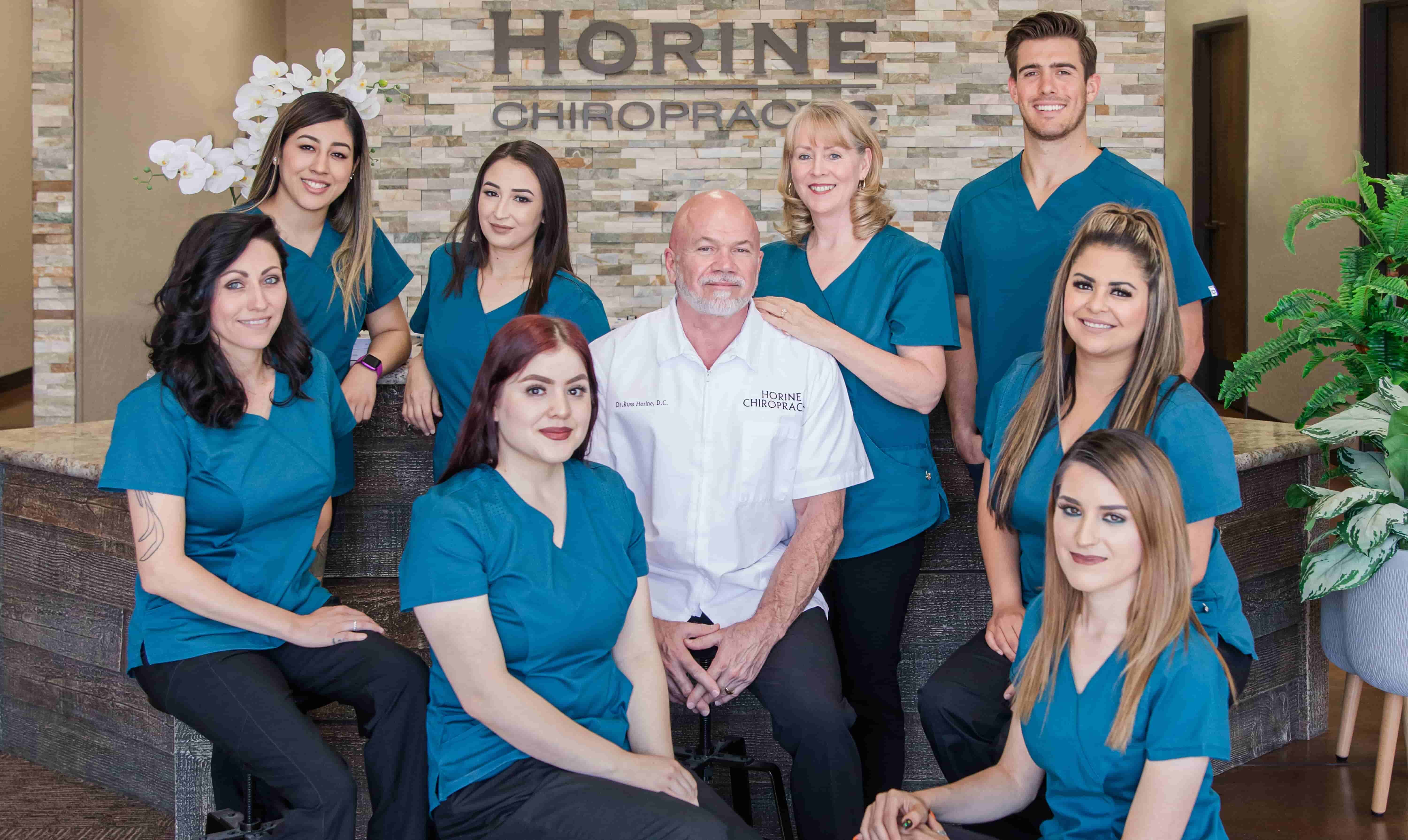 Allow me to introduce myself... I am Dr. Russ Horine.
In the picture, I'm the old guy with the nicely shaped head. The blond is my lovely wife, Andrea. And the others are my warm and caring team members. I'm truly a blessed man.
I guess this is where I'm supposed to 'toot my own horn' and brag about my achievements in the profession, in order to convince you to come here, instead of the other available choices.
I'm not going to do that, instead, I'm going to tell you what you really want to know, so that you can make a decision that's right for you.
I may be a doctor, but I consider myself to be more of a "working man". I say this with pride because chiropractic health care means not only diagnosing what's wrong, but also rolling up my sleeves and actually working with the body – literally hands-on – to fix the problem. To alleviate the pain. To get peoples lives back on track.
Never stuffy or pretentious, my office is a welcoming, family-oriented environment. You'll see my wife, Andrea, pop out from the back office from time to time, and our friendly staff will always do their best to get you an appointment quickly when you're in pain.
Moreover, that's what this is all about — relieving your pain. Also judging by the thousands of good folks that I've helped, I'm very good at my job. I never pressure patients or recommend treatments that are unnecessary (a valid concern among chiropractic patients). My one and only goal is to use the most proven and effective chiropractic techniques to restore you back to health. To get you back again to all the wonderful things that make life worth living, (which, unfortunately, also includes laundry and cutting the grass).
I've had the pleasure of providing chiropractic care to entire families in the Visalia Area for over thirty years.
It's been my honor to help good people in my own community regain their strength and health and a vital role in life again.
It might sound surprising, but my passion for the art and science of chiropractic healing is even stronger now than it was when I was first starting out.
That's because modern chiropractic has made such exciting and significant strides in recent years. We have a much better understanding of how our musculoskeletal functions, how things can go wrong and how they can be fixed.
I actually find these amazing advancements to be thrilling. It's making such a huge difference in the quality of people's lives.
Which is why I recently co-authored a book, Say Goodbye to Back Pain, with my son and daughter-in-law who are both chiropractors as well.
Our book documents a more comprehensive approach to the treatment of back and neck pain based on current research and modern methods.
The focus is on rapid pain relief and getting patients back to their normal daily activities as soon as possible. Ok, I may be 'tooting my horn' just a little bit, but I'm proud of the work we did.
Since publishing the book, we have been humbled by the praise we've received from other health care professionals.
Here's what other doctors are saying:
John Gerard, M.D.
It's discoveries like these that have the power to change our understanding of health... Passing up an opportunity to hear what these doctors have to say on the matter would be an unfortunate mistake.
Daniel Bader, M.D.
Dr. Horine waded through the science and made sense of the tangled web of research that overwhelms the back pain world… I don't know if they realize how big of a discovery they have actually made.
Dwight James, M.D.
"Dr. Horine has taken research from completely different areas of science, digested it, and applied it in a revolutionary and innovative way that will leave back pain sufferers with newfound hope."
David Phillips, PhD
Dr. Horine's groundbreaking approach turns the current understanding of back pain upside down.… And their elegant method to healing back pain is brilliantly simple.
Joe Ritola, D.C., CMT
Dr. Horine are able to extend beyond the alleviation of low back pain and actually lay a foundation by which to manage many chronic health conditions.
Dr. M.P. O'Leary, D.C.
An absolutely marvelous, fresh approach. This amazing book explains a unique approach with new strategies for low back pain sufferers. The information in this book could possibly give you your life back!
If I had to pinpoint what really distinguishes me from other chiropractic centers in Visalia, I'd say this: I take your results personally.
Some people, especially my fellow doctors, would say that's not a good thing. They'd say I'm getting too "involved" with my patients. You see, in the health care profession, common advice is to leave the office at the office and treat patients like a day job.
Well, I have never been good at that. I take my "work" home. I am obsessed with what I do, and I LOVE it. From the day I started in this wonderful profession, I always wanted to be the best chiropractor I could possibly be.
Even after all these years, I still spend many nights and weekends studying and researching on how to get better, faster results and to learn from my failures.
So, while others in the health care world might consider this to be a negative, I firmly believe that my "work-a-holic" lifestyle pays off every time I step into the room to meet a new patient who deserves the best chiropractic care possible.
Moreover, I don't know how to offer that any other way.
Besides, it's my life's passion – it's not work.
Here are the most common conditions I treat:
I can't guarantee results. No doctor can.
However, I can promise that I will deliver the best chiropractic care I possibly can. And I will always be open and honest about whether or not I believe I can help you.
So, if you're looking for chiropractic care in Visalia…if you're searching for ways to get rid of your pain so you can start living a healthier, more active life, then let me help get you there... I am invested in your results.
Moreover, It would be my pleasure to serve you.
We Can Help Get Your Life Back On Track!

Yours in health,
Dr. Russ Horine
They make you feel at home "Doctors and staff are very friendly, professional and knowledgeable, I called for a same day appointment and was able to be seen that afternoon. I enjoy going in every time and they make you feel at home…"
Finally relieved of my back pain"Love this place had lower back issues .. Now it feels so much better but also I learned what my problems were instead of just having a bandaid over the issue great place and staff!"
Because of Horine Chiropractor I smiled again"Horine Chiropractor brought back a smile to my Face. The Dr's and Staff at Horine are knowledgeable and Caring, they pay attention to every patient's needs and care for every single patient as it is their only patient…."
An amazing experience"What an amazing experience! From the minute I walked in the door every attention to detail and concern to my pain I had was a prime importance to them. …"
Would recommend Horine Chiropractic to anyone"I look forward to my appointments because I know how much better I am feeling after each one. They are truly a wonderful family, and their staff is extremely knowledgeable and supportive. I would recommend Horine Chiropractic to ANYONE …"
Can't describe the world-class care provided "Words cannot begin to describe the world class care provided why these wonderful physicians! The quality of care I received from them has definitely exceeded that of any others I have ever experienced. After many encounters with …"
Very caring, gentle and conservative with your needs"There aren't enough words to describe how great the office, staff and quality care you receive here! Very caring, gentle and conservative with your needs …"